one day singapore trip..
ola readers...how ar ya???
hiedy n pakdi ok jer...baru lps g "honeymoon" bersama geng2 kutkm n my bro..had great fun round2 singapore walopon tempoh sehari jer. learnt a lot bout s'pore. bandar tak besar tapi so many great buildings with different shapes and sizes as well as massive port untuk ships and cargos.
tu kire first time hiedy n pakdi menjejakkan kaki kat singapore our whole life. hiedy plak kire first time pegi keluar negara without family. just my bro jadik chepron kitorg..yang g ramai...considered as holiday package wif package passport anjuran one of the student.. yang pegi lbh kurang 35 org jer. satu bas..merasa gak kami naik bas persiaran warna hijau putih. hehe~ selama ni tgk jer org lain naik..
gerak dr melaka kul 730 pagi. hiedy n my buddy rope siap kan sandwich kul 530 pg sbgai bekalan dlm bas. nanti lapar2 tak yah nk beli lagik dah. masa perjalanan dalam bas dipenuhi dgn taik mata..hehe.tido lar aper lagik...ganti tidur yang tak cukup.
berhenti rehat kul 1030 kat R&R link ke-2. lawa tempat tu.. dah breakfast gerak plak smpt imegresen malaysia..chec passport..pastu imegresen singapore check n scan barang2. ngn roti2 pon kene scan.
masuk singapore lbh kurang jam 12 tgh hari. g singapore science centre dulu. best giler kat caner..kiterorg dah jadik cam kanak2 kaget ngn bende2 kat citu. hiedy mmg minat this kind of things so back to my kanak2 nyer act lar.rindu maser jadik kanak2 ribena dulu. ader electric 200 000 watt nyer show letup belon fill wif hidrogen.. kebabom!!! giler best..tp tak sempat nk round n tgk setiap sudut n area kat citu kos masa terhad tp whatever yang kitorg dah tgk pon satisfied gak.
kul satu gerak p arab street untuk mkn n sembahyang zuhur n asar. unique betul arab street tu..very different than other places in singapore. classic, nmpak historical, kedai cam kat melaka,
lagu arab in every kedai, dikelilingi ngn souvernir shops and berhadapan ngn masjid besar..really unique..
pastu gerak g orchard street plaks....giler ramai manusia kat cner...it is a place where masyarakat singapore do their shopping. tp mmg standard abis lar..all A class shops and boutiques. badan dah penat so kitorg duk tepi menikmati keindahan area tu...tapi pakdi, pG, topek(adik hiedy) and wan raser nyer mmg diorg enjoy tgk aweks2 seksi lalu lalang...aper lagik...siap topek cakap "dah rezeki, jangan ditolak"..tu kire activity dey ol kat caner...tgk amoi seksi2. hiedy pon carik lar jugak jejaka2 macho hensem n gentlemen...tapi tak jumper larr..asyik2 nampak pakdi jer...hehe~ dier lar kot jejaka yang hiedy carik

tu..
after one hour kat cner grak p merlion park.. tempat trademark singapore. singa besau diorg tu. tp lamer kat sner kos ader dak sesat slah tunggu tempat bas. so waste time agak lama lbh kurang 2 jam.biler dh jumper terus gerak p sentosa island.
tibe sentosa island pon dah gelap(maghrib dah maser tu). tp still go round the island guna tram. siap berhenti kat tempat tarian gelek ala timur tgh nyer...dak2 laki siap amik gambar n menikmati lagik tu...pakdi n topek pon tak terkecuali. menjamu mata..haha~
continue plak naik bus g musical fountain...another great event to go..guna laser n fountain jer leh wat cerita n music...mmg best..
pastu bdan dah penat n lepak..masuk bas jer terus terlelap...kaki dah lepoh sangat...tak larat...
sampai melaka jam 2 pg.hiedy pakdi n pG g minum2 kat subaidah jap ngn mater separuh tutup..
what ever pon picture shows a thousand words kan...enjoy..
singapore science centre..
semasa activiti meng'usha' amoi2 seksi n pakwe2 hensem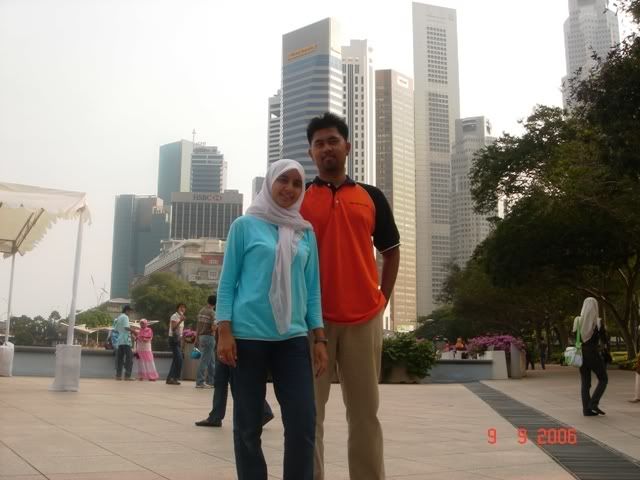 honeymoon in advance tp ader chepron plak masuk gambar...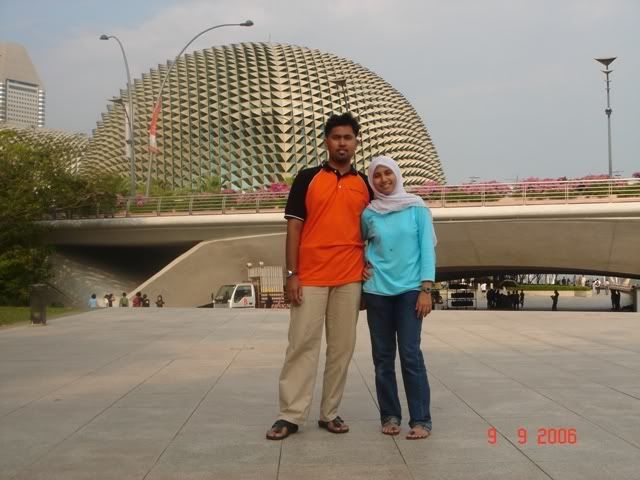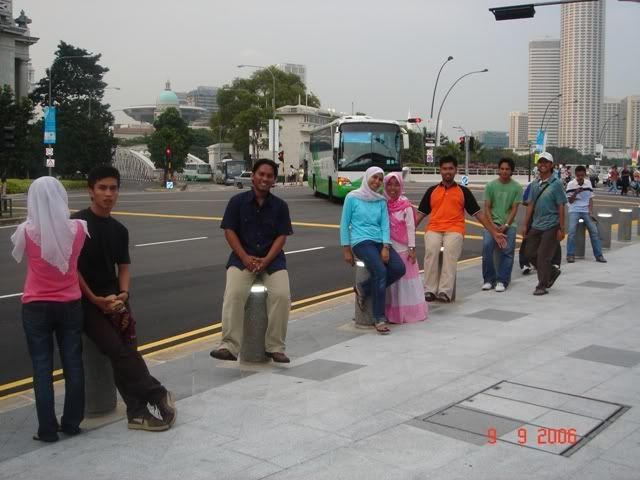 maser tunggu bas kat merlion park..pakdi tgh mem'balance'kan diri yang tak tau ler leh balance ker tak.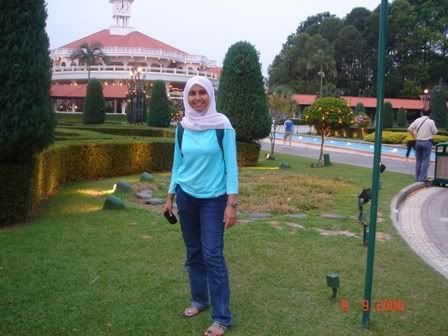 hiedy ngn rope on da way nk g merlion park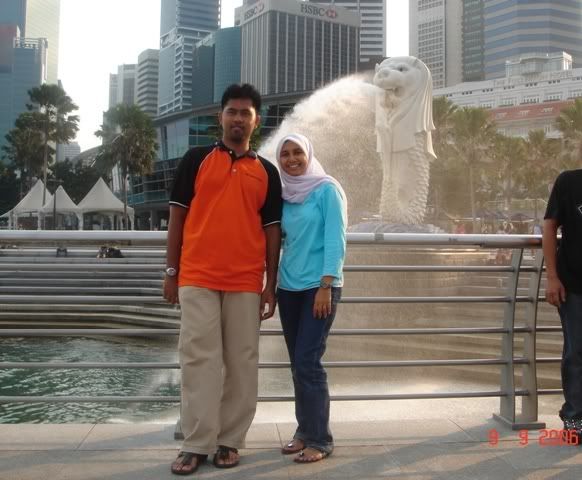 depan trademark singapore...nampak kecik tapi besar tu.